Real time simulation for computational surgery: a review
Advanced Modeling and Simulation in Engineering Sciences
2014
1:11
Received: 26 August 2013
Accepted: 4 April 2014
Published: 29 April 2014
Abstract
In this paper a non-exhaustive review is made on the existing literature for real-time simulation in the field of computational surgery. Many methods have been proposed so far to deal with the very astringent assumption of real-time response in the field, specially for simulators equipped with haptic peripherals. A special emphasis is made on techniques that respond to the so-called second generation of surgery simulators, that able to adequately model the mechanics of the problem. Techniques employing supercomputing facilities, notably those base upon parallel implementations on GPUs will be covered, while special attention will be paid to techniques based upon model order reduction, a promising technique in the field. Finally, some review is made on techniques able to give some insight in the so-called third generation of surgery simulators, i.e., that able to include physiological details into the simulation.
Keywords
Numerical simulation
Computational surgery
Real time
Model order reduction
Introduction
Computational surgery has been defined recently [1] as "the application of mathematics and algorithm design, enabling imaging, robotics, informatics, and simulation technologies, incorporating biological and physical principles, to improve surgery". It has been since the early times of development of computers that their promising use in the field of medicine has been investigated [2, 3]. With the irruption of endoscopical and minimally invasive procedures, on one side, and robot-operated surgery, on the other, training of surgeons has becoming a task in which computer simulation has acquired a preeminent role in recent years [4]. In essence, surgeons have begun to access organs during surgery in an indirect way, through a screen, and this needs for a period of intensive training to avoid costly errors.
R. Satava [5] proposed some fifteen years ago a taxonomy of virtual anatomy that he divided into five different generations. The first generation was composed by systems representing accurately the geometry of the organs at a macroscopic level. The second generation would include an accurate description of the physical dynamics of the body. While it is still hard, more than a decade after, to find a real-time surgical simulator that incorporates accurate, state-of-the-art models for soft tissues at a continuum level, this taxonomy included three more generations. From the third to the fifth one, these virtual descriptions of the patient should include, respectively, accurate descriptions of physiology, microscopic anatomy (at a neurovascular level, for instance) and, finally, biochemical systems.
Many computational methods can be found in the biomechanics literature that deal with different levels of description, see for instance [4, 6–11] among many others. The last three, however, have not been yet fully incorporated into virtual reality simulators due to the impressive computational cost that they involve, since they incorporate descriptions at the molecular level.
To understand the challenge of including state-of-the-art constitutive equations in the simulator, let us consider the structure of a laparoscopic surgery simulator for training purposes [
4
]. In essence, a virtual surgery simulator is composed by, see Figure
1
, a haptic peripheral that communicates with a simulation engine (see also Figure
2
). This simulation core is responsible of detecting contact between the virtual tool and the organ and, by integrating the stresses produced by such a contact, give back to the user hand a realistic sensation of touch. This is precisely one of the bottlenecks of such systems: to provide the user with a realistic sensation of touch some 500 Hz-1 kHz of feedback response (which coincides with the free hand gesture frequency) should be achieved [
4
]. For a detailed explanation on haptics the reader can consult [
12
,
13
]. It can be easily noticed how this feedback rate becomes a true challenge when we deal, as in the case of living soft tissues, with large deformation settings, frequently in a hyperelastic framework [
14
,
15
]. This type of simulations take hours in today's computers, while we are now requiring to be solved from 500 to one thousand times per second.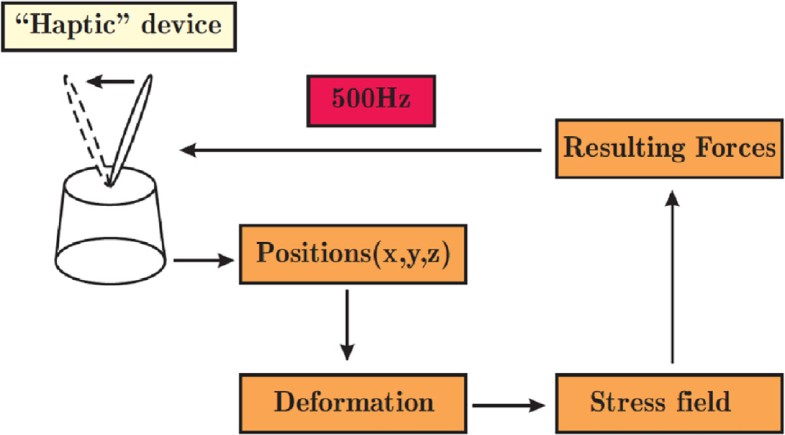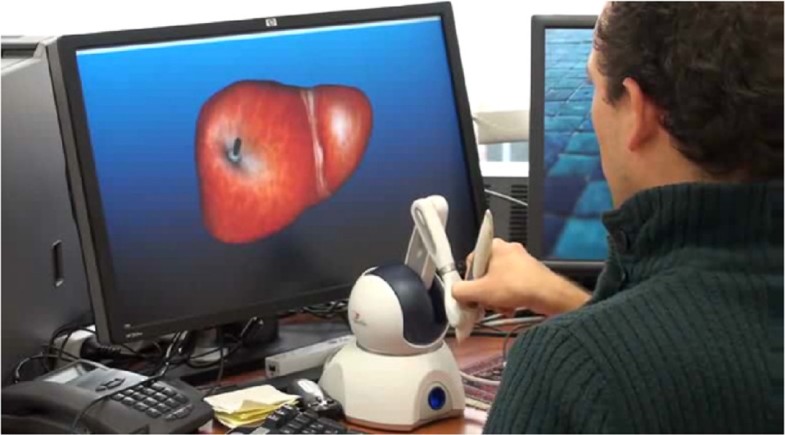 Sometimes real-time constraints are less astringent, and require lower feedback rates but, on the contrary, are expected to provide long-time responses such as, for instance, a simulated outcome of surgery. This is typical in surgery planning simulators [16, 17], that should provide a forecast of the results of a given decision taken in the operating room. In augmented reality applications, for instance, only visual continuity is required, and then feedback at some 25 Hz are enough to perceive this sensation of continuous movement [18].
In this review paper a chronological order is pursued, that coincides roughly with the generations of surgical simulators defined in [5]. It can be said that a true example of second-generation simulator, that which includes state-of-the-art constitutive modeling for soft living tissues, has never been reported in the literature. However, some attempts have been made to develop simulators including accurate descriptions of large deformations. These will be reviewed in Section 'Refining the appearance: the second generation of surgery simulation' particular emphasis is made on methods based upon some form of model reduction, which has revealed as one promising alternative for this challenging problem. In Section 'Adding physiological details: third to fifth generations of surgery simulators' a review is made of those works aiming at incorporating physiological, microscopic or biochemical details into the simulation.
Conclusions
Real-time simulation in the field of computational surgery has evolved a lot in the last fifteen years. Although not exhaustive, in this review paper we have presented a survey of some of the most prominent techniques nowadays. Particular attention has been paid to techniques based on model order reduction, a framework that has somewhat revolutionize the field and that seems the only way to incorporate to the field detailed physiological descriptions, with microscopic details and micro-macro approaches to the always challenging work of simulating the human body.
Other aspects, such as patient-specific modeling, deserve additional attention. Due to their inherent complexity and the infancy of their state of development, they have not been covered in this review.
Declarations
Acknowledgments
This work has been partially supported by the Spanish Ministry of Economy and Competitiveness, through grant number CICYT-DPI2011-27778-C02-01.
Authors' Affiliations
(1)
Aragón Institute of Engineering Research, Universidad de Zaragoza, Zaragoza, Spain
(2)
Ecole Centrale de Nantes, Nantes, France
(3)
Institut Universitaire de France, Paris, France
Copyright
© Cueto and Chinesta; licensee Springer. 2014
This article is published under license to BioMed Central Ltd. This is an Open Access article distributed under the terms of the Creative Commons Attribution License (http://creativecommons.org/licenses/by/2.0), which permits unrestricted use, distribution, and reproduction in any medium, provided the original work is properly cited.